An exploration of the standards of beauty imposed on African-American girls today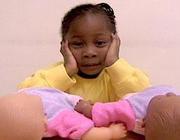 7:08 min
Youth Documentary
Kiri Davis, Director, Reel Works Teen Filmmaking, Producer
Winner of the Diversity Award
Sponsored by Third Millennium
Kiri Davis, Director
I knew from an early age that film was a medium I wanted to work in. Through my films I've found a way of expressing myself as well as telling the stories that are important to me. At sixteen, I directed my first documentary, A Girl Like Me. Before that, I created numerous short films and attended the New York Film Academy. I would love to pursue a career in filmmaking as well as to explore my passions for acting and writing. I have a love of traveling, which affords me the opportunity to meet new people and explore other cultures. My goal is to develop more projects that will help my community and give a much needed voice to issues that pertain to people of color. I am currently attending Urban Academy, a NYC public high school, and I live with my mother in Manhattan's Upper West Side.
Reel Works Teen Filmmaking
Reel Works Teen Filmmaking, supported by HBO, is a free after-school program that challenges high school students to create short documentary films about their lives. Working one-on-one with professional filmmaker-mentors, students write, shoot and edit personal narrative videos on subjects they choose. In the process, they gain self-esteem, develop media literacy and master state-of-the-art digital filmmaking technology. We say to teens: You have a voice! Use it!
And the world is listening! Since we began in 2001, our students' films have been broadcast on HBO Family, PBS and LINK-TV and have been presented at film festivals nationwide from the American Film Institute in Hollywood to the Museum of Television & Radio in Manhattan. Our teen filmmaking program has been featured in the New York Times, The Daily News and on MSNBC, PBS and NY1 News. We have won numerous awards including four Honorable Mention National Student Emmys. Today, our films are being used in classrooms to teach powerful life lessons of diversity, tolerance and hope.
ABOUT THE FILM For my high-school literature class I was constructing an anthology with a wide range of different stories that I believed reflected the black girl's experience. For the different chapters, I conducted interviews with a variety of black girls in my high school, and a number of issues surfaced concerning the standards of beauty imposed on today's black girls and how this affects their self-image. I thought this topic would make an interesting film and so when I was accepted into the Reel Works Teen Filmmaking program, I set out to explore these issues. I also decided to would reconduct the "doll test" initially conducted by Dr. Kenneth Clark, which was used in the historic desegregation case, Brown vs. Board of Education. I thought that by including this experiment in my film, I would shed new light on how society affects black children today and how little has actually changed.
With help from my mentor, Shola Lynch, and thanks to the honesty and openness of the girls I interviewed, I was able to complete my first documentary in the fall of 2005. I learned that giving the girls an opportunity to talk about these issues and their experiences helped us all to look deeper and examine the many things in society that affect us and shape who we are.