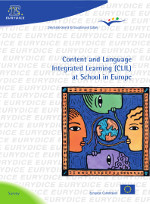 Italiano – français
Online Library
Eurydice. The information network on education in Europe
This document is published by the Eurydice European Unit with the financial support of the European Commission (Directorate-General for Education and Culture).
Available in English (Content and Language Integrated Learning (CLIL) at School in Europe) and French (L'enseignement d'une matière intégré à une langue étrangère (EMILE) à l'école en Europe).
ISBN 92-79-00580-4
This document is also available on the Internet
https://www.eurydice.org
Text completed in November 2005
© Eurydice, 2006.
Eurydice
Eurydice Unit
Avenue Louise 240
B-1050 Brussels
Tel. +32 2 600 53 53
Fax +32 2 600 53 63
E-mail: info@eurydice.org
Internet: https://www.eurydice.org
Printed in Belgium
PREFACE
Multilingualism is at the very heart of European identity, since languages are a fundamental aspect of the cultural identity of every European. For this reason, multilingualism is referred to specifically – for the first time – in the brief of a Commissioner. I am honoured to be that Commissioner.
Barely a year after taking office, the Commission has thus adopted its first Communication on Multilingualism. The new framework strategy for multilingualism takes stock of the situation, with as its starting point the conclusions of the March 2002 Barcelona European Summit, which gave considerable impetus to language learning and to upholding language diversity in Europe.
The strategy pays due regard to action undertaken at European level and incorporates a set of proposals for the economic and social fields and for relations with citizens.
In this context, what is often referred to as 'content and language integrated learning', or CLIL, is among the examples cited and is of unusual interest, as already noted in the 2004-06 Commission Action Plan for promoting language learning and linguistic diversity. By means of this kind of educational provision, pupils learn school subjects in the curriculum while at the same time exercising and improving their language skills. Subjects and languages are combined to offer them a better preparation for life in Europe, in which mobility is becoming increasingly more widespread and should be within reach of everyone.
The present Eurydice survey very clearly reflects my wish to gain a first 'European' insight into content and language integrated learning. It is a means of assessing attempts at all levels to promote new methodologies in language learning.
It contains a detailed analysis of how the provision of CLIL is organised, the status of the target languages, the subjects concerned in the curriculum, and measures for the training and recruitment of appropriate teachers, the shortage of whom is identified as one of the main barriers to implementing this type of tuition. This original and rich appraisal is unquestionably an essential reference source on CLIL.
I hope it will be of interest and value to all who read it.
Ján Figel' Commissioner responsible for Education, Training and Multilingualism
INTRODUCTION
Schools in which the teaching of certain subjects in the curriculum may be offered in a foreign, regional or minority language have existed in Europe for several decades.
Before the 1970s, this type of provision was mainly available in regions that were linguistically distinctive (because they were close to national borders or used two languages, etc), or in the largest cities. It thus concerned very limited numbers of pupils who were growing up in somewhat unusual linguistic or social contexts. The aim was to turn them into bilingual children by enabling them to acquire proficiency in languages comparable to that of native speakers. Indeed, the terms generally used to denote this kind of provision are 'bilingual' school, education or teaching. During the 1970s and 1980s, development of this kind of provision has been influenced in particular by the Canadian experiment with immersion teaching. This first began as a result of English-speaking parents living in the province of Quebec who considered that proficiency in French was vital in a Frenchspeaking environment. They thus sought to offer their children an education in this language that would lead them to acquire significant language skills.
Programmes for immersion teaching have been enormously successful in Canada. Support from the education authorities and the involvement of parents have undoubtedly been key factors in their success.
These projects have given rise to a great deal of interesting research, especially from the teaching perspective. While it has gradually become clear that the Canadian experience is not directly transferable to Europe, it has nevertheless been valuable in stimulating research in this area and encouraging the development of a very wide range of experimental activity.
The provision of immersion teaching may take many different forms. It may be regarded as 'early' or 'late' depending on the age of the children for whom it is intended. It may be considered 'total' if the entire curriculum is taught in what is termed the target language, or 'partial' if that language is the language of instruction for just some subjects. These different approaches are a reflection of the rich variety of linguistic and educational environments, as well as the varied ambitions and aims of pupils or their parents and the education authorities.
The acronym CLIL (Content and Language Integrated Learning) started to become the most widely used term for this kind of provision during the 1990s. CLIL is the platform for an innovative methodological approach of far broader scope than language teaching.
Accordingly, its advocates stress how it seeks to develop proficiency in both the non-language subject and the language in which this is taught, attaching the same importance to each. Furthermore, achieving this twofold aim calls for the development of a special approach to teaching in that the non-language subject is not taught in a foreign language but with and through a foreign language. This implies a more integrated approach to both teaching and learning, requiring that teachers should devote special thought not just to how languages should be taught, but to the educational process in general.
Over and above these special considerations, CLIL and other forms of bilingual or immersion teaching share certain common features that many experts are fond of emphasising. In organisational terms, for example, CLIL enables languages to be taught on a relatively intensive basis without claiming an excessive share of the school timetable. It is also inspired by important methodological principles established by research on foreign language teaching, such as the need for learners to be exposed to a situation calling for genuine communication.
In the context of the present survey, the acronym CLIL is used as a generic term to describe all types of provision in which a second language (a foreign, regional or minority language and/or another official state language) is used to teach certain subjects in the curriculum other than languages lessons themselves. However, it is important to bear in mind that CLIL type provision is itself a product of the historical background outlined briefly in the present introduction and that, as such, it possesses its own special methodological and organisational characteristics.
The terms and expressions used in different countries to denote CLIL type provision (as discussed in this study) are contained in annexe 1. EU support for CLIL For many years now, language teaching has featured prominently in Community recommendations regarding education (1). The promotion of linguistic diversity in education and training has always been an important consideration in planning the successful construction of Europe. Yet it was not until the 1990s that discussion of language learning in the European institutions led to realisation of the need to explore innovative teaching methods. This was to be reflected in the Lingua programme (2) which declared the importance of 'promoting innovation in methods of foreign language training'.
In this context, several initiatives have been launched by the EU in the field of Content and Language Integrated Learning (CLIL).
One of the first pieces of legislation regarding European cooperation in CLIL is the 1995 Resolution of the Council (3). It refers to the promotion of innovative methods and, in particular, to 'the teaching of classes in a foreign language for disciplines other than languages, providing bilingual teaching'. It also proposes improving the quality of training for language teachers by 'encouraging the exchange with Member States of higher education students working as language assistants in schools, endeavouring to give priority to prospective language teachers or those called upon to teach their subject in a language other than their own'.
In the same year, in its White Paper on education and training (Teaching and Learning – Towards the Learning Society), the European Commission focused on the importance of innovative ideas and the most effective practices for helping all EU citizens to become proficient in three European languages. With reference to these ideas the Commission stated that '… it could even be argued that secondary school pupils should study certain subjects in the first foreign language learned, as is the case in the European schools' (4).
The European programmes in the field of education and training have had a catalytic effect in developing different approaches to language teaching. Thus actions supported in the second phase of the Socrates Programme from 2000-2006 (5) have been established to provide for CLIL type provision. In the Comenius Action of Socrates, financial support is earmarked for mobility activities targeting 'teaching staff of other disciplines required or wishing to teach in a foreign language'. Under the Erasmus Action too, financial support may be awarded for 'joint development and implementation of curricula, modules, intensive courses or other educational activities, including multidisciplinary activities and the teaching of subjects in other languages'.
In 2001, the European Year of Languages certainly helped draw attention to the fact that the promotion of language learning and linguistic diversity may be achieved through a wide variety of approaches, including CLIL type provision. In March 2002, the Barcelona European Council sought to boost language learning in calling for a sustained effort on the part of the Member States and the European Commission to ensure teaching of at least two foreign languages from a very early age. Following this request (together with that of the February 2002 Education Council), the Commission in 2003 launched its Action Plan 2004-2006 (6). Under the Plan, CLIL provision is cited as having 'a major contribution to make to the Union's language learning goals'. A set of actions was drawn up to promote the integrated learning of content and language, among them the present Eurydice survey.
At the May 2005 Education Council, the Luxembourg presidency reported on the results of the symposium entitled 'The Changing European Classroom: The Potential of Plurilingual Education' which was held a few weeks earlier in March. Among the main conclusions, the need to ensure that pupils and students are involved in CLIL type provision at the different levels of school education was emphasised, as was the desirability of encouraging teachers to receive special training in CLIL.
Reference should also be made to other ventures that support CLIL type approaches. They include the European Label for innovation in language teaching and learning (awarded for the first time in 1998), and the European EuroCLIC network (classes integrating language and content), which consists of teachers, researchers, trainers and others interested in the implementation of CLIL and has been co-funded by the European Commission since 1996.
The debate on CLIL throughout the European Union is very much alive. Fresh initiatives to promote this still novel methodological approach will be undertaken in the years ahead, probably within the next generation of education and training programmes (2007-2013). The deliberations of experts within the Group on Languages (set up under the 'Education and Training' Work Programme up to 2010), as well as the circulation of information on good practice in the field of CLIL in the Member States, will certainly contribute to its development.
Descargar el documento completo en PDF